for english speaking friends of Katutura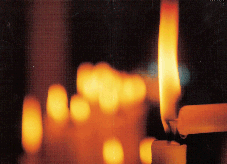 Saturday, January 02, 2010

It was usually on January 6th, that we rejoiced at the wise men's visit to the little one sheltered in a sheperds' hut. Nornally, we could think that baby Jesus would have been about two weeks old.

But « time » can't be measured when it's a question of looking for someone loved! The wise men may have been three or many more. Pilgrim in search of meaning, yesterday and today, with one great thirst for beauty and light and truth.

These men were astronomers in their hearts, they kept looking up to the sky to find in the milky way, the WAY! Like us today, the Truth seekers were stars driven and children bound.
They travelled on and on from the East, it is said, until the star's gentle light stopped and lit a baby's tiny body. Like a glowworm!
They eventually got so far and put their wisdom at the feet of the whole wise New Born. King of my heart and of yours! A most gentle King!
So deeply aware that a New born world lay there, a new born people spreading its roots to live and to love and to do God's work in the midst of on-going chaos!

Epipany urges me to manifest the good that is in me and in others through and beyond shadows and thorns! As E. Hays says so well, speaking my mind as he speaks his:
« Help me disregard my limitations,
shake off the inertia of aging,
and plant seeds of a new tomorrows,
fertilizing them with enthusiasm ».